The following is a shoutout on behalf of United Women Singapore:
Panel Discussion on Protecting Our Youth in Cyberspace
United Women Singapore proudly invites you to join our virtual panel discussion titled "Protecting our Youth in Cyberspace" to be held on Saturday, 14th January 2023, 10am to 11am over Zoom.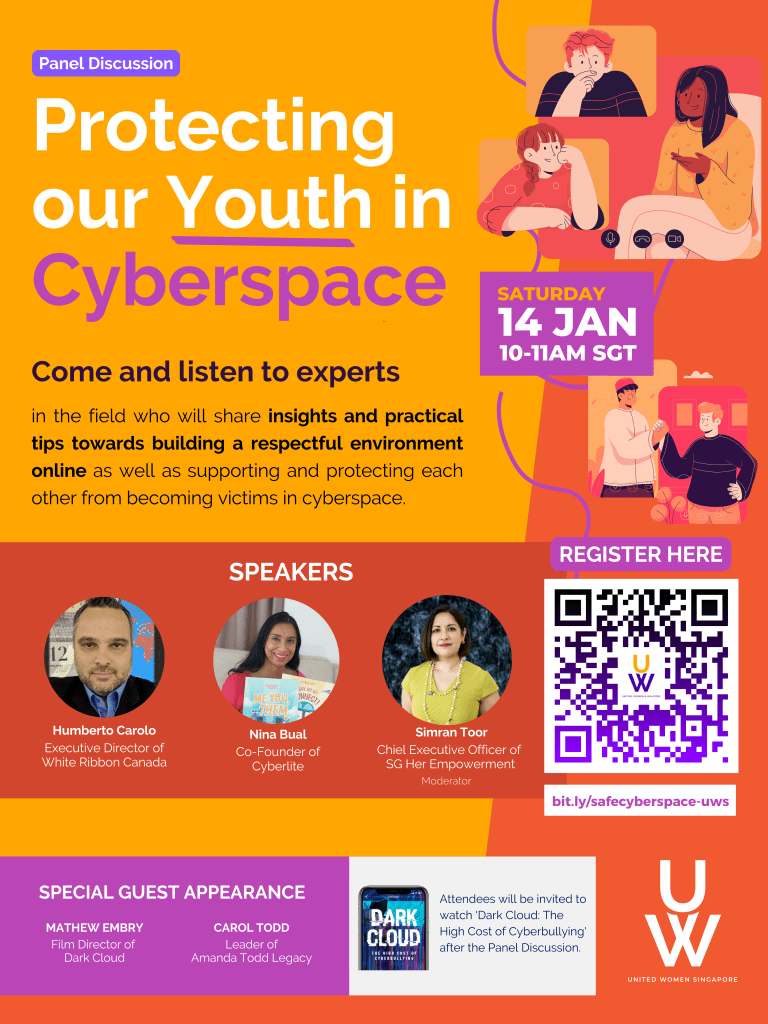 This event is part of our #NormalisingRespectSG campaign to commemorate 16 Days of Activism!
This virtual event focuses on increasing the awareness of technology-facilitated violence (TFV); with a specific focus on protecting youths online.
This event highlights the steps already taken to protect potential victims; but, begs the question on how we can cultivate a culture of safety within cyberspace?
By signing up for this event, you will automatically get complimentary access to our virtual on-demand screening of the film, "Dark Cloud: The High Cost of Cyberbullying".
You may choose to watch the film immediately after attending the panel discussion.
We would like to invite parents, educators and community workers to join us for this event as we engage in conversations on fostering safer and healthier online interactions.
Come and listen to insights and tips from our experts towards building a respectful online environment for all as well as supporting and protecting youths from becoming victims within cyberspace!
This panel discussion will be moderated by Simran Toor, Chief Executive Officer of SG Her Empowerment.
More details of the event below, or in the attached poster:
Event Name: Protecting our Youth in Cyberspace
Date: 14th January 2023, Saturday
Time: 10am to 11am
Location: Zoom Webinar
Registration Link: https://bit.ly/safecyberspace-uws
Panelist:
Simran Toor (Moderator), Chief Executive Officer of SG Her Empowerment
Nina Bual (Panelist), Co-founder of Cyberlite
Humberto Carolo (Panelist), Executive Director of White Ribbon Canada
Agenda:
10.00am – Welcome by UWS and introductions
10.10am – Panel Discussion: Protecting our Youth in Cyberspace
10.35am – Q & A Segment
10.50am – Vote of Thanks and Invitation to watch Film
11.00am – End of event
We look forward to seeing you for this virtual event.
Do extend this invitation to any contact/colleagues/student body which you feel may benefit from this.
Please register here by 10th Jan 2022.
To know more about the event, you can contact my colleague Nicholas at nicholas.wong@uws.org.sg